MY LIFE BEFORE AND AFTER
I was born in Cochabamba. My mom was always a single mother, and we lived in a rented house with my aunts, my uncle, and my cousin Erika. She and I were always together. I often stayed alone with one of my aunts or my uncle since my mother was still studying, but shortly after we moved to Mizque, a small town in Cochabamba, with my grandparents. My mother and I were apart for most of my life, and that made me very sad. Since I was little, I had problems and pains in my stomach, but when we went to the doctor, they only told me that I had parasites. When I went again, they told me that I had gastritis and even though they gave me syrups, pills, and they even injected me, my pain did not go away. My mom would sometimes visit, and we would go to the doctor with her, but I was never diagnosed with diabetes. There was a time when I got fat and it seemed fine even though I was very hungry. I ate a lot but I would vomit and I became very thin. My grandparents wanted to take me to Cochabamba to go to the doctor, but at that time the country was in trouble due to the elections and people blocked all the roads to Cochabamba and they did not let anyone pass. My whole family was worried since I became extremely thin, and even though I was drinking a lot of water, I was dehydrated, my tongue looked cracked and white, it was even hard for me to walk. When the problems in the country began to calm down, they unblocked the roads for a day, and we took the opportunity to travel to Cochabamba. When we arrived, it was almost dark so we decided to go to the hospital in the morning. That night I was fine, but at dawn I began vomiting, and I could not hold it in. They took me to the emergency hospital, and I was in intensive care. They injected me and connected many things to my arms, but I arrived on time as they were able to help me. My whole family was sad, everyone was crying with worry and that is when I was diagnosed with Type 1 diabetes. When they took me out of intensive care, they took me to a common room. Everything they connected to me and injected hurt a lot, but I had to get used to it. I was so hungry but could not eat what I wanted. I was very sad, but I am gradually getting used to it, although it is a bit difficult. Now I live with my mother, she takes care of me and injects me with insulin daily and also takes care of my diet.
Diabetes is something I never thought I would have. It was like falling into a black hole. Without being able to understand, it came into my life when I least expected it, I was only 10 years old. I did not understand what was happening to me. They began to restrict the most delicious things a girl could ask for and began to give me the famous insulin three times a day, which I had to get used to because it would last my whole life. At such a young age, I had to learn to live with it by getting used to its presence because it will always be with me unless, at some point, they find a cure and it is out of my way.
Six years passed and, despite the time, I continue to learn every day. It is very difficult because sometimes, no matter how much I take care of my diet, for some reason my sugar is difficult to manage. The syringes became my friends and insulin, my every-day vitamin. It taught me that I should take care of myself since diabetes is degenerative, and that, as the years go by, my organs get damaged. I hope that the cure will come very soon and that it will be a joy to be able to get it away from my life.
My Experience
My experience with diabetes at the beginning was very unpleasant due to the fact that it was not common, and there was little probability of having medications to treat it. Not to mention the fact that it was a new challenge for me, and it was difficult to accept. The first few months, the only thing going through my head was whether there could be a cure, but I could only deal with this gradually. I did not know other people with the same condition as me.
Thanks to the program, I met many more people who perhaps went through the same and even worse things than what I went through, children even as young as 1 year of age. Also, thanks to the program I was able to improve my condition by teaching us to self-manage and live in a healthy way. The supplies that they provided us also helped a lot because it can be said that diabetes is a rather expensive disease, and I am grateful for the opportunity to have them.
Throughout these 11 years of diabetes in which I lived through many ups and downs, I had to be checked into the hospital, but thank God I was able to get out under control. I also had good moments with diabetes, for example now I can eat healthier. Also, since I am a young person, there were times that made me angry to have to inject myself and even to have to deprive myself of some things that I could not do, especially when I was among friends.
Diabetes helped me a lot to recognize who my friends really were as I saw the way they took care of me and cared about how I was doing. It does not bother me that the people around me know about the condition I have, rather I see it as an advantage since I know that they will be there to help me when I need it.
Finally, after so many years living with this, I learned to adapt and that you can have a totally normal life, but it takes a lot of discipline and effort. In the end I think there are worse situations than diabetes.
My life with diabetes.
My life with diabetes began in a somewhat uncertain way. Many doubts emerged within me and the answers from the doctors were always the same, as if they were prepared, like from a manual. They said that diabetes was a chronic disease caused by certain immunodeficiency that led my pancreas to stop producing insulin, and made it seem as if everything was easy and normal. Of course, it must be easy to talk to a child that way when you do not suffer what you teach with so many technical terms. It must be difficult to explain to an infant what insulin is, the times when it has to be administered, what they should and should not do. Insulin is such an important hormone and yet, doctors fill the children's heads with this information so that they themselves, with the help of their close ones, save their own lives every day. In these circumstances it is easy to see diabetes as an enemy that you have to hate for the rest of your life, because without it you might not need so much supervision, so much insecurity, or so much fear.
But as the popular phrase says, every cloud has a silver lining. If you follow the advice that your doctor gives you, eat correctly, exercise, and respect the schedules in your day-to-day life, you will feel much better, your life will begin to change, and diabetes will be that old friend who will remind you when you have been doing things wrong for a long time. This process of lifestyle change is hard, but it is so worth it. Not a day goes by that I do not stop wondering where I would be if I did not have diabetes. The answers do not make me very happy, because it is part of me. I owe my greatest successes and failures to it, it is thanks to it that I am who I am. Thanks to it, I can say with my chest and head held high that I have diabetes.
A SHORT STORY ABOUT MY LIFE
My name is Rosned Viviana Serrano Pinto. I am 25 years old, and I was diagnosed with Type 1 diabetes Mellitus when I was 14 years old, and I have lived with it ever since.
It was very difficult to accept it and to handle the blood glucose highs and lows. Thanks to God I could always count on and have the support of my mom, who is a fundamental pillar in my life and in the lives of all my siblings, who were always concerned about my well-being.
For everyone at home, it was difficult to cope with the situation. I had many fights with my mother and siblings, but they always showed me that I could be a normal person. Since I was diagnosed with diabetes, I asked myself why I had to deal with this situation at my young age. And I asked God why I had to live through this situation if I had already lived a hard childhood without having my father by my side. But as time went by, I understood that God gave me the responsibility of taking care of myself to be a stronger person and to prove to myself that I am capable, and that he will always be by my side.
I had a single hypoglycemic crisis in 2018, a day after my birthday. I still do not remember how it happened, but I know it was a huge concern for everyone at home. For me, I felt a huge fear of dying, because I still feel that I have a lot to do and many dreams to fulfill.
Today I struggle to completely stabilize my blood glucose and to be better, but I am very happy and grateful because I know that I have many people by my side who love and support me unconditionally. Especially my beautiful daughter Diana Isabel, my little 5-year-old. She is my world and the reason why I want to live, to see her grow up and see her happy. Diabetes did not deny me the opportunity to be a mother.
Diabetes is very hard, it takes time to know it and cope with this life condition, to know yourself, to accept yourself and continue fighting day by day. Even so, you get tired because the daily pricks hurt, the blood glucose highs and lows hurt, and there is always the concern of not knowing how you will feel the next day. These things are only known to people who suffer from this condition, but when you leave everything in God's hands, everything becomes more bearable.
I thank God for every day that he gives me life. I always ask him for my health, and that my daughter never suffers from this condition, always hoping that this will soon end.
Rodrigo Rico de Ugarte was born on August 7, 2002. He weighed 6.5 pounds, and he measured 19 inches. With an Apgar of 9-10, he was born healthy. He attended pre-kindergarten and kindergarten, and he started the first year of school when he was five and a half years old. He had a thin anthropometric structure, and his weight and height development were normal.
The year 2008 began. Rodrigo had developed a great appetite, polyphagia, polydipsia, and indiscriminately drank bottled water or soft drinks and had polyuria. Then he had a feeling that his throat was dry, and he had to drink liquids to calm this feeling. We took him to a social security clinic, and he was examined by different pediatricians. He was given medications to reduce that sensation of dryness in his throat, and he was diagnosed with a slight physiological discomfort in his throat. Although, in the doctor's opinion, he did not show anything to merit specific treatment and was given medication for him to use only in case of discomfort, the dryness in his throat kept getting more intense.
Laboratory tests were performed to try to find the cause of the discomfort and no doctor found a clinical problem. We started a stage in which it was not only the throat discomfort, but he also began having abdominal pain that was not correctly diagnosed either. The lab tests did not indicate anything. The doctors began to suspect that it was a rare virus that was attacking Rodrigo's body and that it was necessary to do a series of lab tests to find the virus so that he could then be given the appropriate medication, because what they had given him did not have a good result.
We insistently took him to the different insurance pediatricians and we ended up with the head of pediatrics. The symptoms of nocturnal enuresis began to appear, and he had vision difficulties in the classroom. He was taken to the pediatric service and explained these different symptoms that did not exist before, such as eating a lot, drinking a lot of fluids, eyesight problems, and enuresis, to try to solve these problems that distressed us and for which the health insurance doctors had not found a solution.
For his vision, he was prescribed glasses that corrected this difficulty. In the visit to the doctor, we asked the ophthalmologist if this could be due to diabetes. We were told that children of Rodrigo's age do not get diabetes, and that it only happens to adults.
After doing the laboratory analysis, having talked about the problems with his vision, and the ophthalmologist's comments, we asked the same question to the pediatrician, to which he answered that the two blood sugar crosses were not significant, and that this problem did not merit further care or treatment.
Having spent a weekend full of anxiety about the discomfort of his stomach pain not subsiding and the dryness in his throat getting worse, he was prescribed injections to "soothe" his throat and stomach. That weekend was awful as we had to take him to an emergency room on Sunday night around 12 to 1 a. m. and return home at 3 in the morning.
That night we could not sleep, to such a degree that my wife and daughter had to spend the whole night with him, trying to calm his discomforts and complaints, without having the precise diagnosis, not to mention the correct treatment for this health problem.
At the beginning of the day, very early on Monday, we took our son to the emergency room in a very severe state of dehydration, with cracked dry lips, stomach pain, and a burning throat. The pediatrician on duty said that he was very dehydrated, and that this had to be solved first. He was given ringer's lactate intravenously because he was entering a diabetic coma. She suspected diabetes, and that is why he was not given a glucose serum, which would have caused a greater health problem. He was immediately taken to the San Pedro clinic for hospitalization to do a more strict control. They called an endocrinologist, a blood sample was taken, and the diagnosis of Type 1 diabetes was positive. We were asked to taste his urine, and it was very sweet, which is another way of checking that someone has diabetes. They immediately took a blood sample to check the glycated hemoglobin that confirmed Type 1 diabetes. We received precise information from the endocrinologist. He explained the steps that had to be taken to solve the emergency to us. He was transferred to another clinic, San Vicente, because it had the laboratory and the staff that carried out the necessary hemoglobin checks and a medical staff with much more experience in this type of cases. He was taken to the intensive care room for several days until his blood sugar levels were stabilized, and we were taught how to administer basal and fast insulin. Initially the father was the one who took on this task of pricking his finger and belly.
Almost ten years have passed monitoring Rodrigo's health permanently. A time to learn and teach for all of us, the institutions, family, and community. Every day we try to do better. Children grow, there are permanent changes in development, experiences, hormones, highs, and hypoglycemia, like the one we had to live on 12/31/17. And today we live through a syndrome of fear of a new hypoglycemia. We continue learning, training ourselves. Hopefully the institutions at the global, national, and local levels will continue to help us in this delicate task of assuming the role of parents and family.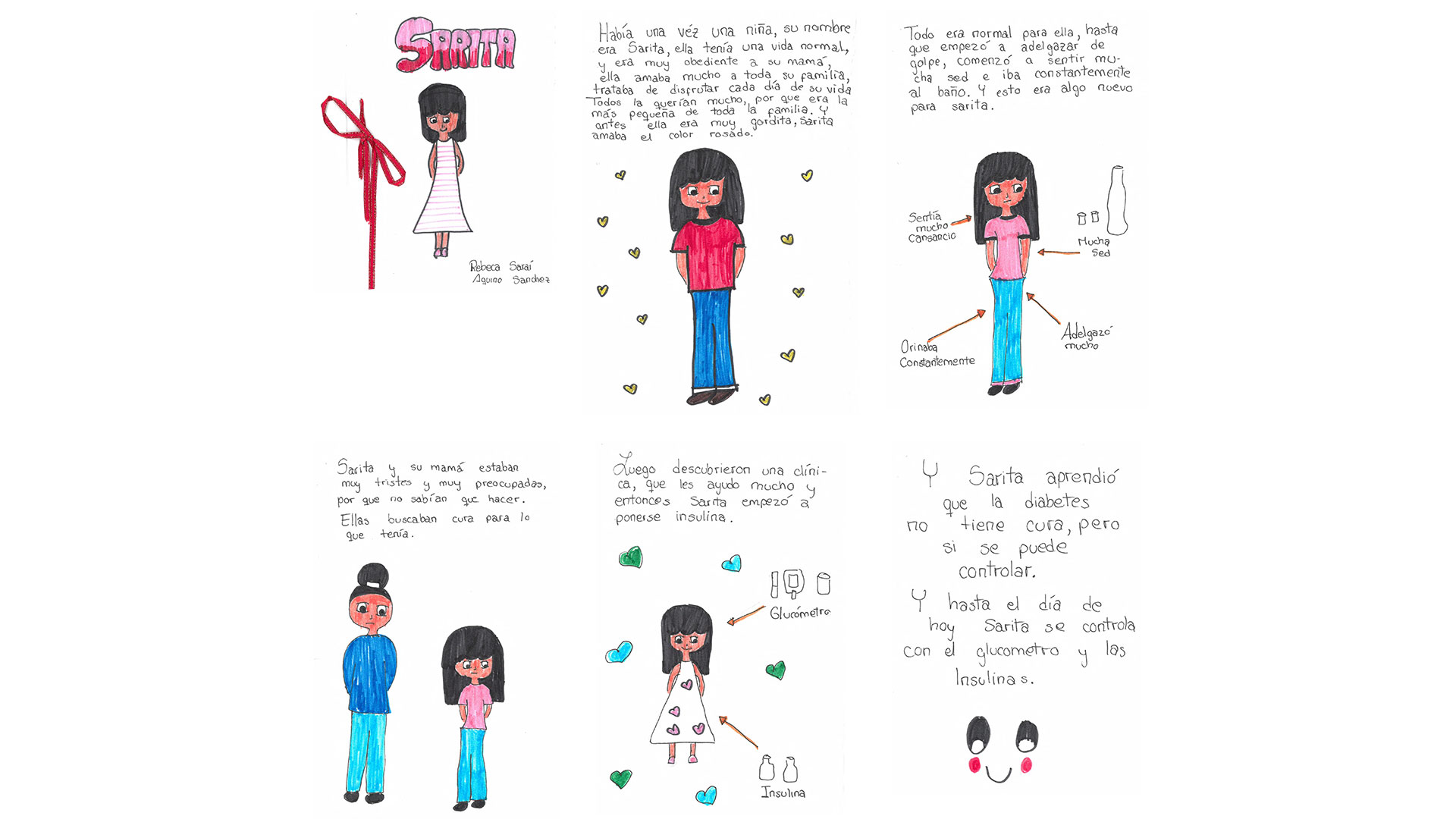 Once upon a time, there was a girl, her name was Sarita, she had a normal life, and she was very obedient to her mother. She loved her whole family very much, and she tried to enjoy every day of her life. Everyone loved her very much because she was the youngest of the whole family. She used to be very chubby. Sarita loved the color pink.
Everything was normal for her, until she suddenly began to lose weight, she began to feel very thirsty, and she constantly went to the bathroom. This was something new for Sarita.
Sarita and her mother were very sad and very worried because they did not know what to do. They were looking for a cure for what she had.
Then they discovered a clinic that helped them a lot, and then Sarita started taking insulin.
Sarita learned that diabetes has no cure, but it can be managed. And to this day, Sarita self-manages with a glucometer and insulin.
The day that changed my life
My life changed 4 years ago, and today I can say that I have the strength to speak clearly and loudly about my life condition.
Hi! I am Patricia, and I have had diabetes for 4 years, since I was 13 years old.
When I found out that I had Type 1 diabetes, I was too skinny because 77 pounds is not a normal weight for a 13-year-old girl who is 5 ft 5". When I found out about my new life condition, I had no idea what to do because it is not a normal thing for a 13-year-old girl to just start thinking daily about how to take insulin or how to stop eating certain foods. At first, I asked my mother how many more injections I should give myself per day so that I could be healthy and no longer have to inject anything, and I remember that my mother only said: calm down, it will pass. Until one day I understood that this was not going to end and that I had to learn to live with it. Of course, it is easier said than done, for me as well as for any other boy or girl, it was very difficult. I began to feel rejected, to hide my condition from everyone when I should have warned them about it so that, perhaps in some difficult situation, they would know how to help me. I began to isolate myself from my friends, I began to receive a certain type of bullying for not talking to anybody. I mean, imagine, I was a 13-year-old girl who did not speak or look at anyone. At school I would hide in a corner to cry and cry and ask myself why all this happened to me, but then you understand that you cannot spend the rest of your life crying over something that you have to go through and that will be part of yourself. And I began to change gradually, to speak more, to stop crying, to not distance myself so much, and to realize that there are people who love me with or without a new and different life condition.
Today, 4 years later, I think I acted and felt that way because there were many people who told me that I was not going to get very far, that I would not live long, but now I know and I am more convinced that I can and will prevail and go very far. Every day I think that God's plans are perfect, and that God also gives his worst battles to his best warriors.
A sweet life
My name is Paola Yesica. I was diagnosed with Type 1 diabetes mellitus on November 30, 2018. It has already been a year and three months since I started suffering from this disease. I take NPH insulin and Humulin R. In the early days, I thought I was the only one suffering from this disease. I went to Dr. Roxana Barbero. She taught me that I was not the only one, and that there were many like me. And that I can live many years and even longer than a normal person.
The doctors say that my diabetes is hereditary since my grandfather on his father's side had diabetes but he died at 42 because he did not comply with the diet of a person with diabetes.
I visit my doctor every three months or every month. My family supports me a lot. My mother's name is Maribel Quinteros and she is with me every day of the year. My day begins by checking my blood sugar. If my glycemia goes over 200, I take a little more R insulin. Always following an exact diet. At 12:00, I check my blood sugar again and if it is normal, I only take what the doctor told me. I always eat salads and potatoes, rice, or noodles with any meat for lunch.
A person with diabetes also suffers from low blood sugar and we call that hypoglycemia. When we have hypoglycemia, we have to eat some candy.
My first days with diabetes began when I went to the children's hospital and started with these symptoms: urinating a lot, eating a lot, I was dehydrated. I relapsed three times, the first one was because I was not taking enough insulin and the second was because my blood sugar was high since I was worried because my brother ran away, but he showed up, and my sugar was normal again, and my management got better.
My whole family supports me a lot and comes with me to my visits with the doctor and sometimes they also inject me because I cannot inject my arm. They all know how to understand me, they are very good to me.
Even with my diabetes, I never neglected my studies, I have always gotten an honors degree since kindergarten. Diabetes or no diabetes, I never neglected my studies. Diabetes changed my life because now I have to inject myself, check my blood sugar, go for tests, and so on.
I hardly speak much about my diabetes to anyone because one day someone told me that it was good that I got diabetes, that way I was not going to get any more school diplomas, but I did not let myself fall and I showed them that even if I had diabetes, I got an honor diploma from the whole school. My GPA was 98 so I showed them that even with diabetes, I was able to do it. So, I am a sweet fighter and that is a great summary of my entire life. Thanks.
February 5
It is a day without meaning
where the memories are taken away by a cloudy dawn.
Everything is forgotten except the bad memories,
but my senses are speaking to me.
I'm heading to a place where I do not want to be,
where no 9-year-old wants to be.
The only thing my eyes see are my family's tears,
a feeling of sadness that I can't understand.
It took more than 5 years to understand it.
A disease that not many of us manage to understand,
a problem that, many say, is a curse.
I say it is an opportunity to make ourselves better.
What we did not do in a life of freedoms,
we have to seek perfection in such an imperfect world.